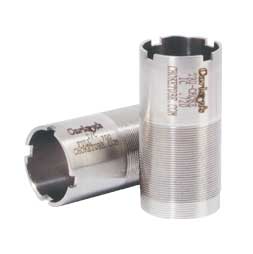 Tru-Choke Small Diameter Flush Mount Choke Tubes (12ga)
These chokes are available for 12 ga. shotguns. These chokes are stainless and are for use with LEAD ONLY. Special order chokes and choke systems added to barrels use this Tru-Choke System.
SMALL DIAMETER CHOKES: All small diameter 12 ga. chokes are available in stainless steel and may not be used with steel shot.  This choke system is usually installed in barrels with outside diameters of .805 to .825, and is designed to be shot with 2 3/4" lead loads only.
***NOT FOR USE WITH STEEL***
Item#

Const.

Dia.

Price

Quantity
08041

Cylinder*

.730

27.5

08043

Improved Cylinder*

.720

27.5

08044

Modified*

.710

27.5

08045

Improved Modified*

.705

27.5

08047

Extra-Full*

.690

27.5
* Not for use with steel shot.